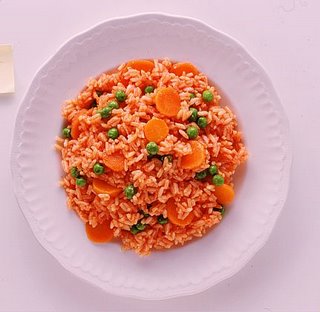 Directions
1Pour hot water to cover the rice and leave it for about 10 minute rest.
2Drain the rice and rinse well in cold water, then shake the colander and drain the rice again.
3Put the tomatoes, onion and garlic in a blender and blend until smooth.
4Heat oil.
5Give the rice a final shake and stir well insured in the oil until the grains, then bake until only the grains, in turn, a light brown color. This process takes about 10 minutes.
6Tip the pan on the one hand and the removal of excess oil.
7Stir in the tomato paste and cook, scraping the bottom of the dish to prevent sticking, until the mash is included - just about 8 minutes.
8Roer broth, vegetables and entrails (if used) add salt to taste and cook over fairly high heat, until all covered both is absorbed and in the air, holes appear in the surface.
9Cover the surface of the rice and cover with a towel and leave to cook on very low heat for about 5 minutes long.
10Remove from heat and set aside in a warm place to absorb the rice with the rest of the moisture in the steam and swell - just about 15 minutes.
11Dig gently to the bottom and testing of a grain of rice.
12If it is still wet, cook for a few minutes longer.
13If the upper grains are not quite soft, sprinkle with a little hot broth, cover and cook a few minutes longer.
14Before serving, turn the rice out of the soil, so the flavor juices is evenly distributed.
Ingredients
1 1 / 2 cups (375 ml) long grain white rice or medium-grain rice.
1 head (1 / 2 lb) tomatoes, un-skinned, mince
1 / 4 small white onion, coarsely chopped
1 clove of garlic, coarsely chopped
1 / 3 cup safflower, melted chicken fat or melted lard
3 1 / 2 cups chicken broth (fresh is best)
1 / 3 cup carrot rounds (Optional)
1 / 2 cup fresh peas or diced zucchini (Optional)
1 / 2 cup chopped giblets (Optional)