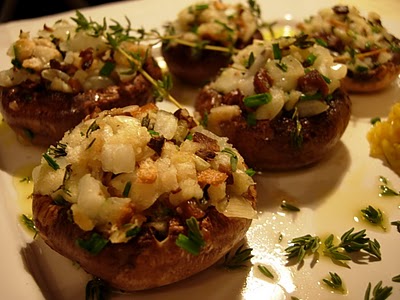 Directions
1Making the mushrooms clean, by making the head empty.
2Contact 1 / 2 pounds of pork, and pass it through a food processor to chop.
3In a saucepan place 3 tablespoons olive oil and bake 1 large onion and 4 cloves minced garlic.
4Also add 1 green pepper finely chopped and minced pork to.
5Do 1 tablespoon chopped fresh oregano and pepper.
6If you are ready to fill the mushrooms, tight stuffing, put them side by side in a baking dish.
7Make the sauce with chopped fresh rosemary, fresh thyme also 6 cloves minced garlic, olive oil, salt and freshly ground black pepper.
8Giet said over mushrooms
9Sprinkle the mushrooms parmesan and breadcrumbs.
10Turn oven full house, Finally, pour a good splash of dry white wine over.
Ingredients
4 cloves of garlic, ground beef
1 tablespoon chopped fresh oregano
For the sauce: