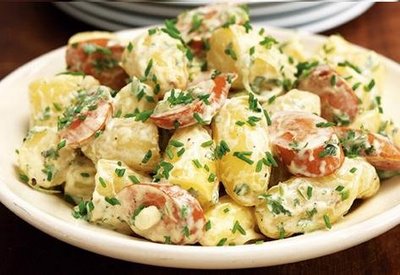 Directions
1Bring a large pot of lightly salted water to a boil.
2Boil peeled potatoes cooked, but still firm, just about 15 minutes.
3Drain, cool off, cut into cube.
4Place the eggs in a saucepan and cover with cold water.
5Bring to a boil, and remove from the heat immediately.
6Cover the pan, and let the eggs stand in hot water for 10 up to 12 minutes.
7Remove from hot water, and cool.
8As in the Hak eieren, and toss together with the potatoes and vegetables in a large bowl or serving dish.
9In a separate bowl,, Combine the mayonnaise, 1 / 2 teaspoon black pepper, ground mustard, lemon juice, dill and green olives.
10Stir to blend.
11Pour the dressing over the potato mixture to taste with salt and pepper and mix.
12Cover, and put in the fridge for 1 hour, of 's nachts.
Ingredients
4 russet potatoes - shelled, cooked, and cubed
1 (10 ounce) canned mixed vegetables
1 / 2 tablespoon fresh lemon juice
5 tablespoons chopped pimento stuffed olives