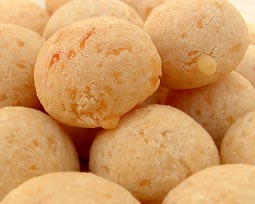 Directions
1Preheat the oven to 175 degrees C.
2Oil a baking sheet with cooking spray and set aside.
3Meng ei, milk, cheese and butter in a large bowl.
4Sprinkle flour and tapioca starch, stir to form a smooth dough.
5Knead the dough for two minutes on a lightly floured surface and roll into golf ball-sized pieces and place on baking sheet.
6Bake in preheated oven until golden brown, 10 up to 15 minutes.