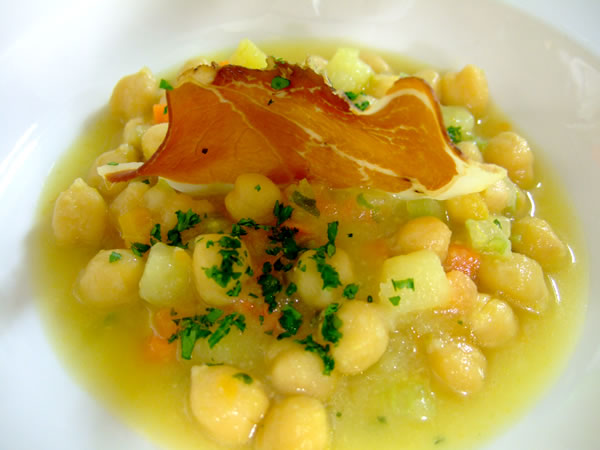 Directions
1Place the chickpeas overnight in plenty of water before.
2Rinse thoroughly the next day.
3Bring to the boil in a pan of water, Taking account of this increase in size when they are cooked.
4Let them cook for half an hour.
5Remove the foam from the water with a spoon.
6While in a frying pan fry the bacon in its own fat until lightly browned, Add the tablespoon of olive oil and put it together with the onion, garlic, celery and carrots, cook until they are tender.
7Add the peppers or chili peppers and tomatoes.
8Let it cook for a few minutes.
9Remove the sauce from the heat and place the preparation in the chickpeas.
10Add the bay leaf there, This gives him a good taste to the soup.
11Season with salt and pepper to taste, reduce heat and cook for about an hour.
12Add more water to cook for, if necessary, the soup should be somewhat soupy.
13Bring to taste at the end of the cooking.
14This soup is usually accompanied by white rice.
Ingredients
2 cloves of garlic, ground beef
½ small red pepper chopped, of 2 paprika's, or a combination of these
3 plum tomatoes, Skinned, seeded, ground beef