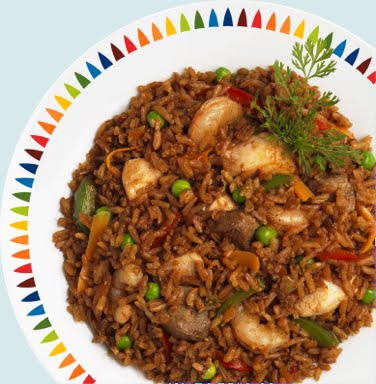 Directions
1Bring water, carrots, onions, celery and spices to a boil in a large pot.
2Add the chicken and cook over medium heat for about 1 hour or until the chicken is very tender and fully cooked.
3Remove the chicken from the broth and keep the broth.
4Cooking, Rice, Heat the butter, add the onions and rice, stir well.
5Add the broth, bring to a boil, reduce heat to low, cover and cook for about 20 minute rest.
6Meanwhile boning the chicken and keep the chicken for later.
7Heat the first 2-3 tablespoons butter or oil over medium heat in a large saucepan over a refrito or base to prepare for the chaulafan.
8Add the chopped onions, diced pancetta, crushed garlic, 1 tablespoon Worcestershire sauce, 1 tablespoon soy sauce, cumin, coriander, pepper powder, and achiote powder, cook for about 5-8 minutes or until the onions are soft.
9Add the cooked rice, chicken, and diced peppers to.
10Stir well and cook over medium high heat for 5 minutes, stirring occasionally.
11Stir in remaining soy sauce, the remaining Worcestershire sauce, scrambled eggs, peas, carrots, raisins and mix well.
12Add the chopped herbs and green onions with it.
13Serve with avocado slices, aji of HETE sauce, in ketchup (of pikante ketchup).
Ingredients
Chicken Stock:
5 pound whole chicken, or several pieces
Rice:
2 tablespoons white onion, diced
Chaulafan:
2-3 tablespoons oil or butter + 3 tablespoons butter
3 tablespoons chopped coriander
2 pepper (1 red and 1 green), diced
2 cooked carrots, cubed (1 cup)
2 tablespoons Worcestershire sauce
3 tablespoons chopped coriander / parsley
2 bunches scallions or green onions, mince
garnering - avocado slices, aji of HETE sauce, ketchup, tanning of zilveruitjes