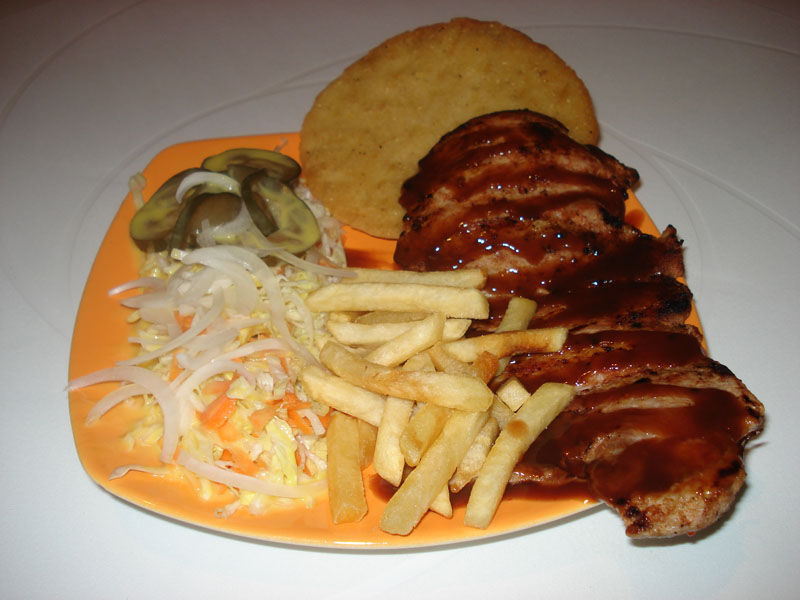 Directions
1Clean the meat and remove skin and excess fat. Should be cut into small pieces, marinate it with oregano and cumin.
2In a large pan heat the oil, fry the meat until lightly browned, remove and set aside in a bowl.
3In the same pot saute the onions and garlic for a few minutes.
4Add the peppers and tomatoes, tomato paste, salt and pepper.
5This dish is cooked for about 5 minutes and add the meat and broth.
6Stir well and cover, lower heat and simmer until the meat is cooked (if it is necessary, add a little water).
7Add potatoes, stir a little, back cover and cook potatoes cooked.
8The meat is cooked with or without potatoes, accompanied by white rice, plantains and salad.
Ingredients
1 / 2 kilo of beef for stewing
2 cloves of garlic, ground beef
1 / 2 large onion, grated or chopped
2 tomatoes (preferably peeled and pitted)
1 / 2 green peppers and / or red, into strips or cubes
1 up to 2 tablespoons of tomato paste
Salt, pepper, oregano and cumin to taste
Optional: 1 / 2 cup beef broth (it will give more flavor) of 1 / 2 cup water