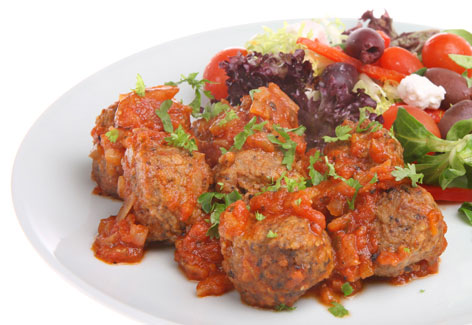 Directions
1Take a large bowl and put all the ingredients for the meatballs in it except the flour.
2Break the eggs into it and mix everything together until a fairly homogeneous mixture.
3Knead by hand.
4Make the balls (the greater: the longer the cooking time), do the flower.
5Must be made for a, sunburnt, not cook, in a little olive oil. Put them in a dish and set aside.
For the sauce: rights de ui, pepper, garlic and mushrooms and fry in 4 tablespoons olive oil, almost gold.
1Then, the tomatoes, tomato paste, wine, Add bay leaf.
2Thereafter, the broth, salt and spices.
3When it begins to boil, cook for 4 of 5 minutes and then lower the fire layer.
4Do the meatballs in the sauce.
5Cover the pan and simmer until meatballs are fully cooked.
To prepare the rice: chop the onion, garlic and parsley and cook in a few tablespoons of olive oil.
1When the onion is translucent, add the rice and fry 2 up to 3 minutes.
2Add the broth, laurel, saffron and salt.
3Reduce heat.
4Cover and cook over low heat until all the liquid has been consumed.
5Remove from heat, let alone 5 minutes.
6Meatballs served on the board, red-hot, with much sauce accompanied by rice and other side Parmesan.
7Can also be accompanied with mashed potatoes.
Ingredients
For the meatballs:
3 - pure pork sausage passed by the chopper
150 grams of fat passed through the chopper
2 tablespoons chopped garlic and parsley
2 cups breadcrumbs soaked in milk, leaked
For the sauce:
1 kilo of tomatoes peeled and finely chopped
soaked and chopped dried mushrooms cup
For the rice:
1 teaspoon minced garlic with rice