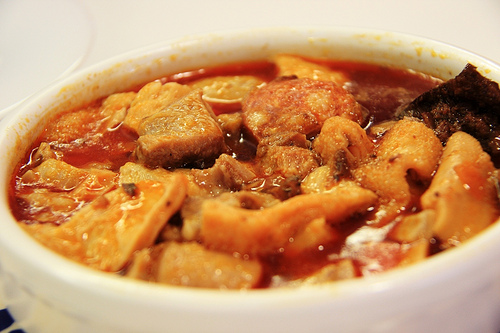 Directions
1The sausages and beef should be very well washed, cut into small pieces and place in a bowl with some water.
2Then a mug of vinegar and add some salt.
3Wash them well again with the liquid until they are clean. If necessary, repeat this procedure several times.
4Then do it in a pot, cover with cold water and when the water boils, take them out and clean them again with cold water.
5Put them one more time in a pot with fresh water, add the onion (in pieces), two cloves of garlic, the bay leaf and peppercorns.
6Let them cook for about 4 hour and set aside to be baked the next day.
7Put some oil in a pan, two chopped garlic cloves, the chopped onion and cook until soft and golden brown.
8Add the smoked ham.
9Cut the red sausage into very small pieces and fry lightly.
10Once done, add a teaspoon of sweet red pepper powder and immediately the pan from the heat.
11Of "Corns" are placed in a clay pot, the removal of the onion, garlic and bay leaf with which they were cooked the day before.
12Add the mixture (with ham and red sausage, etc.) to.
13Cover with 1 / 2 L water, add the black sausage, and a little pepper.
14Cook over low heat for about 45 minutes.
15Serve in the same pan in which they were cooked.