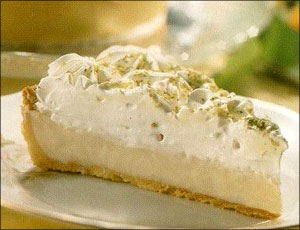 Directions
Pie
1Preheat the oven to 180 degrees.
2In a skillet over low-medium heat, melt the unsalted butter.
3In a bowl, Mix the sugar, flour and salt together.
4When the butter has melted and has a beautiful golden color, Add the vanilla extract there.
5Once the vanilla extract is there, turn off the heat.
6Add the butter with stirring to the dry ingredients with a fork.
7Mix until all ingredients are mixed and the dough appears crumbly.
8Butter the sides of a cake tin.
9Pour the mixture into the cake tin and press the dough into the pan, to form the crust.
10Bake for 20-30 minutes, until a light golden brown color has.
11Allow to cool completely.
Limo-foam
1Mix all ingredients together in a bowl and place in refrigerator.
2When the cake has cooled remove the mousse from the refrigerator and pour it over the cake.
3Garnish with crushed cashews.