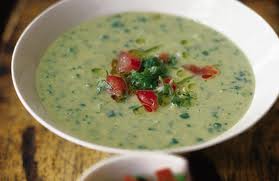 Directions
1Melt the butter in a large saucepan over low heat.
2Add onion and garlic and stir well.
3Let cook gently, without colorings, until the onion is soft and translucent.
4Stir in the flour and cook, stirring constantly, 1-2 minutes.
5Do not allow the flour to brown.
6Add the chicken stock, a little at a time, and stir until the flour thoroughly mixed and liquid is smooth and free of lumps.
7Bring to a boil and reduce the heat.
8Cut the avocados in half and remove the thick green skin and stones.
9Place the meat in a bowl and mash well with a fork.
10Add crab meat and mix together.
11Add the mashed avocado and crab in the soup and simmer gently for 15-20 minutes cooking.
12Stir in the cream and season to taste with salt and pepper.
13Remove from heat and set aside to cool.
14Cover and chill in the refrigerator.
15Serve chilled, piece topped with avocado and chives or cilantro.