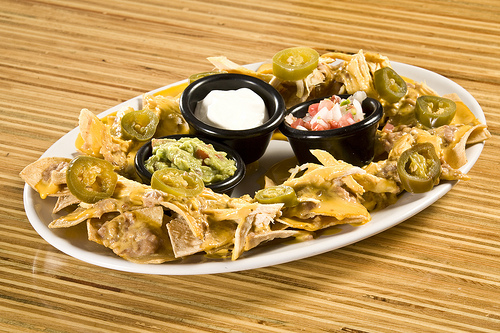 Directions
1Heat the oil in a large heavy skillet over medium heat.
2Add onion and cook, stirring, for 2 up to 3 minutes or until the onion is soft.
3Add red and green peppers, maïskorrels, tomatoes, beans and Tabasco to.
4Season with salt and pepper.
5Bring to a boil.
6Reduce heat to medium and simmer for 20 up to 25 minutes cooking, or until vegetables are tender.
7Preheat the oven to 200 ° C.
8Arrange corn chips on refractory plates.
9Sprinkle with half the cheese.
10Spoon bean mixture.
11Sprinkle with the remaining cheese.
12Behind ze 10 minutes or until corn chips are crispy and the cheese is melted.
13Place avocado in a bowl.
14Add lemon juice and puree.
15Dollop on platter and serve.
Ingredients
2 cobs of corn, stones removed
420 g kan vier-bean mix, rinsed and drained
1 cup reduced-fat shredded cheese