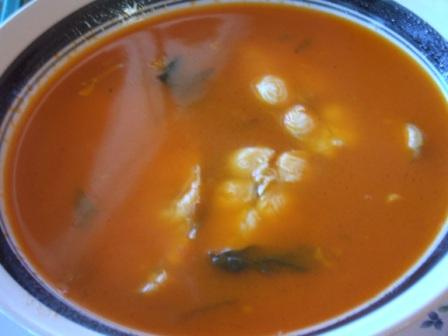 Directions
1In a large pot we do it peeled fruit into large pieces with herbs (ui, leek, garlic, pepper, tomatoes) and cover with enough water.
2Let it cook on medium-high heat until soft a little.
3The green bananas cooked with water, salt and a dash of lemon juice.
4Add fish and add more water if necessary, salt and pepper to taste.
5Let the stew cook until the fish is cooked.
6If you can add the corn cobs.
7Season with the salt and add the lemon juice at the end of the cooking far, or served with lemon wedges, so that each guest can bring his soup to taste.
Ingredients
1 kilograms of fresh fish without scales, giblets and rinse into blocks or strips
2 kg white vegetables: yams, cassave, potato, taro
6 green bananas or 3 banana pintones
3 sweet paprika, chopped in half, seeded
3 not too ripe tomatoes, seeded