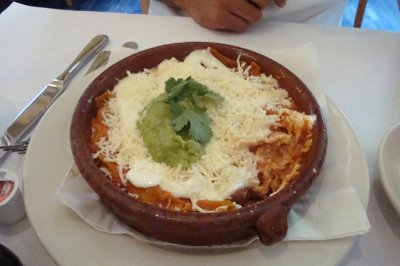 Directions
1Season the chicken with salt and pepper around.
2Bring the chicken stock to a boil in a large pot.
3Place the brisket in the broth, reduce the heat to moderate, Cover and cook until the meat is cooked, just about 15 minutes.
4Let cool in the broth.
5When cool, Remove the skin and bones and shred the meat into bite-size pieces.
6Strain the broth and reserve for another.
7In a large mixing bowl, Combining fresh tomatillo salsa, whipped cream, 1 teaspoon salt, 1 / 2 teaspoon pepper, onion and shredded chicken pieces.
8Heat the vegetable oil in a medium skillet over medium-low heat.
9Cook the tortillas just about 5 seconds to soften by side, and then transfer to a large colander in the oven. Pre-heated to 200 C.
10Grease a 4-quart casserole or 6 up to 8 individual casseroles (or use small soepkommen).
11Combine the cheeses in a mixing bowl.
The preparation of the chilaquiles: Spread a thin layer of the cheese mixture over the bottom of the baking dish. Push the solids in the bowl of the chicken and tomatillo sauce on the side, so that the liquids are a pool in the soil. Dip the softened tortillas in the pool to moisten. A third layer of the humid tortillas over the cheese and cover with the half of the chicken mixture with the sauce. Sprinkle the half of the rest of the cheese over the chicken. Repeat the layers, ending with a layer of tortillas on the top. Cover tightly with aluminum foil.
1Behind 30 minutes or until the edges slightly brown.
2Let sit for 10 minutes before cutting and serving.
Ingredients
2 Whole chicken breasts, seasoned with salt and freshly ground black pepper