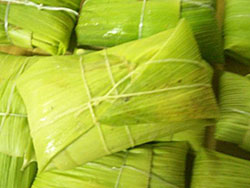 Directions
1Puree the corn kernels with the milk in a food processor.
2Add the salt, pepper and chilli powder and mix.
3In a large skillet, Heat the butter and fry the onion, pumpkin, red pepper and coriander for 10 minutes.
4Add the pureed corn and let it continue cooking, with constant stirring until it thickens, just about 5 minutes.
5Add the grated cheese.
6Mix and remove from heat.
7Blanch the banana leaves or corn leaves in boiling water and set aside.
8Cover each sheet with 4 tablespoons of the corn mixture in the middle.
9Fold the husks around the corn mixture into a square package.
10Bind the pack well with a cord.
11Make sure all edges are sealed, and that there is no attachment can escape from the package.
12When all the leaves are filled, place them in a large pot of salted water (until everything is covered), and simmer on low heat, hedged about 1 hour.
13They can also be steamed.
Ingredients
3 ½ cup corn kernels (to in blik of)
1 Aji teaspoon chili powder, or replacement New Mexico
1 tablespoon red pepper; chopped
1 tablespoon fresh coriander; chopped