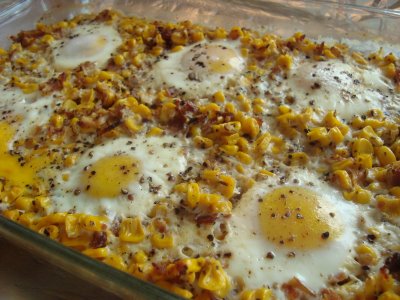 Directions
1Preheat the oven to 205C.
2Beboter 4 individual earthenware dishes or 1 great.
3Melt the butter in a medium saucepan over low heat.
4Add the onion and cook until soft but not brown, 4 minutes.
5Add the corn and milk.
6Bring to a boil, reduce the heat, and leave uncovered, stirring occasionally, until the corn is cooked and the most of the liquid is absorbed, 10 up to 15 minutes. (frozen corn will take a little longer than fresh.)
7Spices generously with salt, black pepper and basil. (The dish can be prepared in advance up to this point. Heat the corn mixture, adding a bit of milk, if necessary, before proceeding.)
8Spoon the corn mixture evenly into the prepared dishes.
9Make a well in the corn mixture in center of each plate of eggs.
10Careful breaking of 1 of 2 eggs at a time in a bowl.
11Season with salt and black pepper.
12Behind 7 up to 10 minutes, until the egg white is milky, and the yolk has hardened, but still soft.
13Serve immediately.