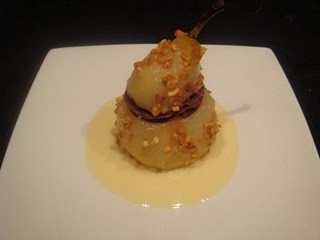 Directions
1Peel pears and cut in half lengthwise.
2Remove the core and place in a microwave safe bowl.
3Add cranberry juice and enough water to the pear halves are covered.
4Cover with plastic wrap and put in the microwave on high for 3-4 minutes or until just tender.
5Let cool.
6Mix the cream cheese and dried fruit.
7If pears are cooled to room temperature, remove and fill each pear half with the cream cheese mixture.
8Top with chopped walnuts and serve.