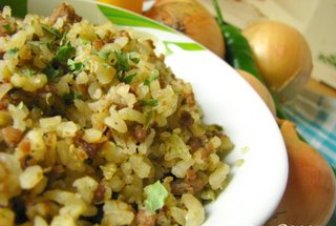 Directions
1Put the rice in a heatproof bowl, pour in boiling water to cover and let 20 minutes staan. Drain well.
2Put the tomatillos in a food processor or blender and process until smooth.
3Finely chop half the coriander and add the tomatillo puree with onion, chili peppers and garlic.
4Process again until smooth.
5Heat the oil in a large pan.
6Add the rice and cook over medium heat for 5 minutes, until all the oil has been absorbed.
7Stir occasionally stabbing prevent the rice shape.
8Stir in the tomatillos mixture with crab meat, broth and wine.
9Cover and cook on low heat for about 20 minutes or until all the liquid is absorbed.
10Stir occasionally and add a little more liquid, When the rice begins to stick to the pan.
11Add salt, spoon into a serving dish and garnish with the remaining cilantro and sliced ​​scallions.
Ingredients
1 cup (rounded) long grain white rice
3 1 / 2 cups canned tomatillos
1 ui (white is best, yellow is OK), chopped
3 poblano chilipepers, of Anaheim chilipepers, seeded and finely chopped