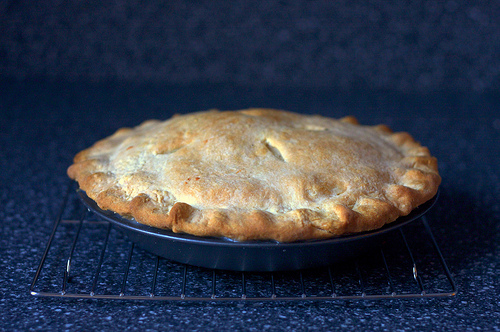 Directions
1Preheat an oven to 190 degrees C.
2Place 1 egg in a pan and pour water on it 1 cm.
3Cover the pan and bring the water to a boil.
4Once the water boils, immediately remove from the heat and let the eggs stand in hot water for 15 minutes.
5Pour the hot water and let the egg under cold running water lying in the sink, peel off pick and chop the egg.
6Meanwhile, bring a pot of water to boil.
7Stir in the corn and return to boil.
8Cooking for 2 minutes; strain and set aside to cool.
9Heat the oil in a saucepan over medium heat.
10Stir in the onion and cook until the onion is soft and translucent twist, just about 5 minutes.
11Giet of Melk in pan in klop cornflour.
12Add butter, nutmeg, salt and pepper.
13Bring to a boil constantly knocking, then cook for 2 minutes until the butter has melted and the sauce has thickened.
14Stir the mixture and hard boiled eggs; pour into the pie crust.
15Cover the bottom with the beaten egg.
16Bake in the preheated oven until the crust are golden brown and the cake, just about 25 minutes.