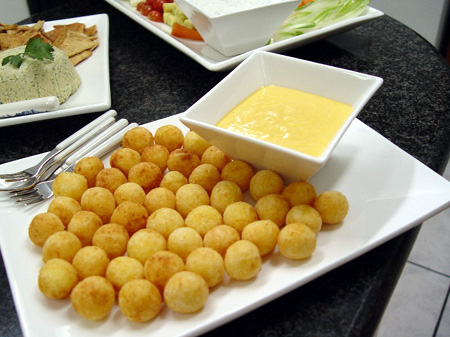 Directions
1Peel the cassava, cut into medium-sized pieces and place in a pot with water.
2Bring to the boil and cook gently.
3Pass the hot cassava through a sieve.
4Add butter, Parmesan cheese and egg.
5Knead to a smooth puree. Mix well. The puree should be thick.
6Shape into balls.
7In the center of each ball 1 slice of mozzarella cheese or butter.
8Then do the balls by cassava flour.
9In the freezer for a few hours or more rest.
10Heat the oil in a frying-pan.
11Fry the balls once the oil is hot.
12Remove balls from the pan when they are brown.
Ingredients
1 pounds of good quality cassava
2 tablespoons butter, at room temperature
Buttery mozzarella into small cubes type to fill the ball (Optional)
Optional: 2 teaspoons freshly ground red pepper