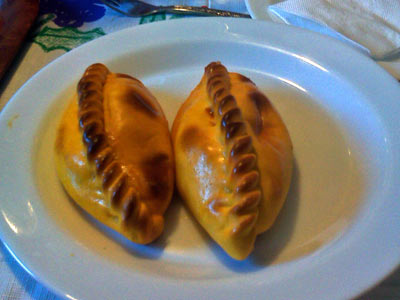 Directions
1Put the flour in a bowl with butter ¾, breaking with the hands until the butter is mixed with flour.
2Add the remaining butter to bake with annatto.
3Add flour, sugar and salt.
4Quantities.
5Add the annatto in warm water and knead until smooth and divide into 50 g servings.
6Shaping round buns.
7Leave covered with plastic wrap or plastic in the refrigerator or a cool place overnight.
8To prepare the stuffing: Boil the potatoes until they are soft.
9Fry onion in butter until soft.
10Add some hot broth and season to taste, but not too salty.
11Add the sugar, when a whole again, add the mince and fry.
12If too dry is added more broth.
13Boil eggs hard.
14Peel and grate potatoes, adding to the drowned and mix well, let cool and refrigerate overnight.
15Forming a Salteña: Step 1: Peel and slice the eggs. Roll the balls round and in the center to one or two tablespoons jigote, a slice of boiled egg instead, Moisten the edges together with the fingers of the masses and the Repulgue, paint with egg yolk and bake until browned make in preheated oven at 180 º C.