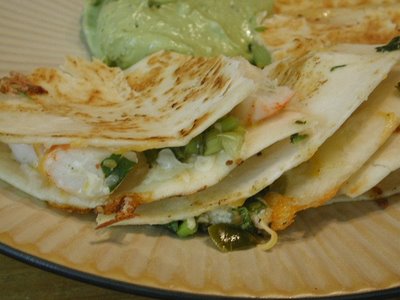 Directions
1Combine 1 / 2 Italian dressing, ui, tomato, peppers and chili powder in a microwave bowl or pan.
2Microwave at full power uncovered 4 minutes or until vegetables are tender and the mixture is thick.
3Add coriander and stir.
4Straw 1 / 2 head cheese 1 / 2 of each tortilla and top with 3 tablespoons vegetable mixture.
5Fold tortillas in half and spread with the remaining Italian dressing.
6Place 3 stuffed tortillas on a baking paper-lined plate and microwave on the highest setting for 1 minute or until cheese is melted.
7Herhaal met de rest tortilla's.
8Cut each quesadilla into thirds. Garnish with salsa, guacamole in your room, if desired, serve immediately.