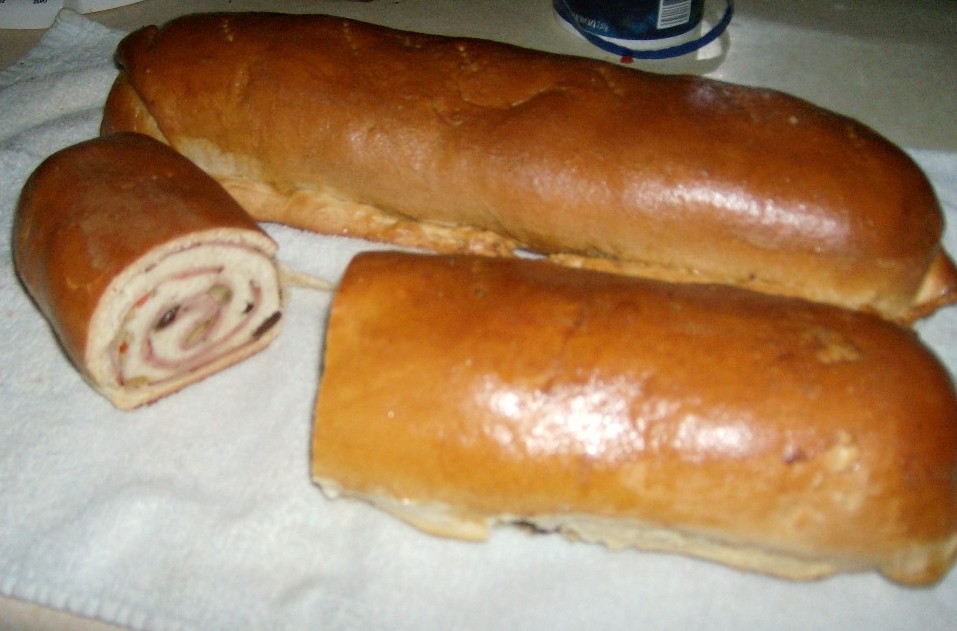 Directions
1Dissolve the yeast in warm water with sugar and a pinch of flour, in a closed bowl in a warm place for about 10 minutes.
2In a large bowl place the oil, 2 Owner, salt, milk and yeast together.
3Stir a little.
4Gradually add flour and continue mixing until a dough.
5Knead on a lightly floured surface until smooth and well soft dough.
6Covered infuse in a warm place for an hour.
7Roll out the dough with a rolling pin until thin, 3 up to 4 mm. that, and that is more or less rectangular shape (just about 35 cm. lang in 28 cm. in the width).
8Lightly grease with fingers or a brush with the bacon fat.
9Then, a layer with ham.
10A little chopped bacon, olives and raisins.
11Roll the loaves to the correct shape.
12Place the loaves on a greased and floured baking tray (or baking paper) for 45 minutes, and covered with a cloth in order to grow. Pierced with a fork and covered with whipped egg whites.
13Preheat the oven to 100 degrees.
14Put the loaves in the oven at 200 degrees for an hour, thereafter raising the temperature to 230 degrees and while the bread to rise for 10 up to 15 minutes, until golden brown.