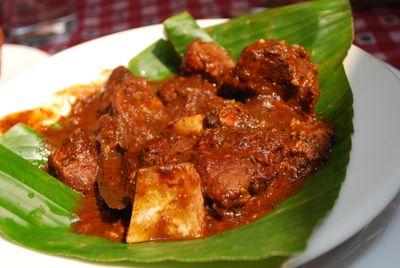 Directions
1Make all dried peppers with a damp cloth, and remove any stems, veins and seeds.
2In a large skillet, grate the chillies, 2 of 3 at a time, until slightly blistered and aromatic, toasting each chili pepper for about 10 seconds.
3Place the chiles in a pan with the broth as roasted.
4Let the broth boil for about anything 10 minutes or until soft
5Slide ½ cup water in a blender, add the garlic, chili pepper, cumin, black pepper, cinnamon, salt and oregano.
6Mix the ingredients to form a smooth paste, slowly add in small portions of the dried peppers in the remaining water.
7Make a thick sauce without small pieces of Guajillo chili pepper in it remain.
8In a large, heavy, deep pot, Heat ¼ cup oil or lard.
9Add the blended mixture into the pot and cook, stirring the ingredients regularly in order to prevent the aanbrand.
10Let bake the ingredients in the oil or lard 5 minutes and cool the sauce
11Mix the sauce with lamsschenkels.
12Place a piece of aluminum foil on a flat surface and put a banana leaf on top of the foil
13Place a lamb and an avocado leaf in the middle of the banana leaf and fold the banana leaf to add the lamb in a package
14Fold the foil around both sides of the package tightly banana, so that no steam can escape.
15Place the folded side up on a baking sheet. Repeat this process with the remaining three lamb shanks
16Boil all four lamb shanks in a steamer for an hour, or fry for 1 ½ hours 200 °.
17Open a cooked package to the willingness of the flesh, which should be tender and juicy.
18As a final, place ½ oz. chopped white onion and ½ oz. fresh chopped cilantro into two mounds on either side of the lamb on the plate
19Chop the whole lime in half and place the two wedges on the plate as a garnish for other lamb.
Ingredients
4 pieces of whole black pepper
1 kaneelstokje, (Mexican canela or Ceylon variety)
1 piece oregano (Mexican variety)
4 foils, cut into 20-inch squares
4 bananenbladeren, cut into 15-inch squares