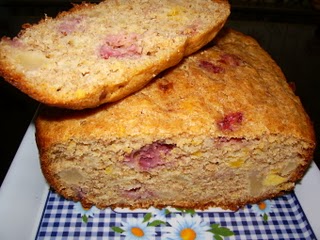 Directions
1Put the egg yolks in a large bowl with the sugar and beat until doubled in volume.
2Add butter, flour and baking powder and if it is well mixed.
3Add the lemon zest and chopped candied fruit to.
4Then, the egg whites until stiff and mix with the previous preparation.
5Then grease with butter a cake pan.
6Pour in the preparation and put in the oven, pre-heated to 180 ° C for 35 of 40 minutes.
7Finally, it is removed from the oven and sprinkle the cake with pineapple syrup.
8When thoroughly soaked, remove from the mold and garnish with slices of pineapple and cherries.