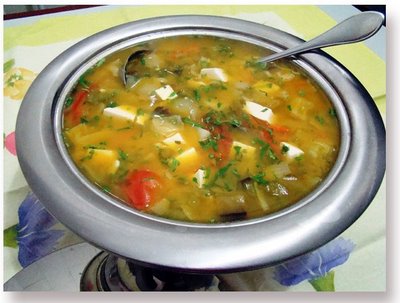 Directions
1In a large pot, we fry garlic, onion and celery in a tablespoon of butter until tender.
2Add water or broth, parsley, chives and leeks.
3Put the vegetables there.
4Bring the soup to a boil, reduce heat and cover.
5Sauté until the vegetables are soft (and soft flesh).
6Season with salt and pepper to taste.
7Add coriander to the end of the cooking, so that no flavor is lost.
8Let the soup a little stand and pass slowly through the blender with milk, to make it creamier.
9You can serve it sprinkled with white cheese, grated or diced cheese. Usually accompanied by a piece of bread or arepas. In the Andean region this kind of soup was also associated with annatto sauce, tomato and onion.
Ingredients
1 large potato, peeled and chopped
1 medium carrot, peeled and chopped
Taro carrots, peeled and chopped (2 / 3 kop as)
Celeriac, peeled and chopped (2 / 3 kop as)
1 piece pumpkin, peeled and chopped (2 / 3 kop as)
2 cloves of garlic, ground beef
2 stalks green onions chopped (without roots or tips)
½ stalk clean and sliced ​​leeks
5 cups water or broth (can broth of herbs, meat or chicken)