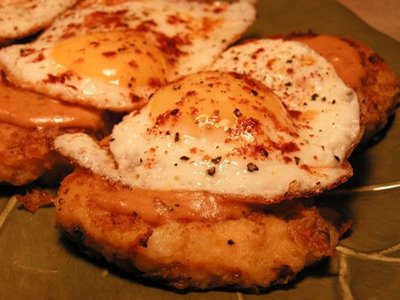 Directions
1Place the potatoes in a large pot, cover with salted water and bring to the boil, uncovered, on medium-high heat.
2Boil the potatoes until a knife can pierce them easily.
3Drain the potatoes and set them aside for 3 up to 4 minutes before they are completely dry.
4Mash the potatoes until smooth.
5Season with salt.
6When cool enough, shape 1 / 3 head portions of mashed potatoes into balls and place on a baking tray.
7Let rest for at least 20 minutes.
8Start preparing the sauce mani.
9Simmer the milk and sliced ​​onion in a small saucepan for about 10 minutes.
10Do not boil.
11Strain the onions from the milk and discard.
12Beat the butter into the hot milk and season with salt.
13Bring to a boil, reduce heat to low and simmer until it thickens, 4-5 minutes.
14The sauce should have the consistency of whipped cream.
15Add a little more milk or peanut butter as needed.
16Set aside.
17Remove potatoes from the refrigerator.
18Mix the cheese and scallions together and cover each ball with about 1 tablespoon of the mixture.
19Press the balls flat with your hands to form patties.
20Heat the oil in a skillet over medium heat.
21Behind the pasteitjes, a few at a time, until brown on each side.
22Then place in a warm oven until all patties are fried.
23Serve topped with the salsa de mani.