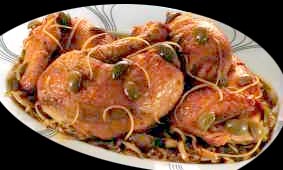 Directions
1With a knife we ​​remove the fat of the pig.
2Creating the knife we ​​then pierced the flesh to do in the juice and olives.
3Season with crushed garlic, salt, pepper and oregano.
4Put the meat in a deep frying pan in the oven.
5Put there pineapple juice and vinegar.
6Olives we do in the holes to the leg.
7Cover with foil and let marinate in the refrigerator for 24 up to 48 hour. Turn it over, in the half of the time in order to better absorb the juices.
8Preheat the oven to 175 degrees.
9Bake the roast for 4 hour covered with foil until the meat is tender.
10Reveals the pork and raise the temperature to 200 degrees for an hour until browned, turn the half of the time to, and do occasionally about the juice.
11Remove the roast from the oven and cover with foil.
12Let stand for at least an hour in order to absorb the juices.
13Chop sliced ​​diagonally.