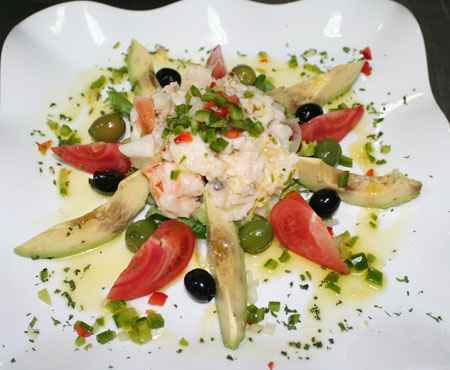 Directions
1Cook the shrimp in boiling water with high salt, until they change color and are tender.
2Immediately remove from heat, Drain and refresh under cold water to stop cooking.
3Season with salt and pepper.
4Place shrimp in a bowl.
5Mix the lemon juice with chopped parsley, pepper and onion into strips.
6Mix well.
7Add chili Mirasol to shrimp.
8Mix the spices.
9Serve in a bowl with lettuce around, slices of sweet potato and corn kernels.
10Garnish with slices of hot pepper.
11Serve with Cancha.
Ingredients
2 medium onions, cut into thin strips
Juice 10 lemons (pressed at the time)
2 yellow peppers, seeded and deveined, cut into thin strips
Mirasol pepper 2 tablespoons ground (Optional)
1 hot pepper, cut into thin slices for decoration
Sweet potato cooked and sliced
Lettuce leaves for presentation