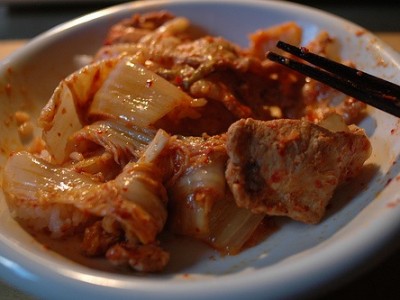 Directions
1Degreased bones and the meat and cut into thin pieces about 1 cm square side.
2Peel carrots in half lengthwise and then slicing across into thin pieces.
3Clean the leeks, take only the white part and cut into thin slices.
4Was de paprika, seeded, cut into thin strips and then cut into pieces of about 5 cm in length.
5Cut the cabbage and onion julienne, not necessarily very thin.
6Pumpkin washed and cut into small pieces, peeled.
7Parsley into small pieces and chop the garlic.
8Heat a pot, preferably of iron, on high heat, Instead of olive oil in it, when hot, do the pork in it.
9When it begins to brown, Add garlic and parsley, ensure the seal of the pieces of pork and preserve their juices, must all pass over high heat.
10Once brown: add all the vegetables in oil, laurel, spices and broth and salt.
11Shortly before the rice is cooked, should go fairly quickly.
12Add Soy Sauce.
13Continue cooking over high heat, stirring often, until vegetables are tender, but with a good degree of firmness, Carrots should be almost crunchy.
14Immediately remove from heat, because it retains heat for a long time and continue cooking.
15Serve hot, either to leave alone or with white rice soaking in the sauce.
Ingredients
1 pounds of pork with bone bondiola
1 cup chicken broth with vegetables